Mission given to entreprisecontemporaine® by SNCF Gares & Connexions, the new SNCF branch managing the 3000 French railway stations :
– embody with the interventions of contemporary artists the "new link" between the new or refurbished stations of the new TGV Rhine-Rhone line and their territories,
– find artists and works in "resonance" with the DNA of the territories: history, local culture, major economic actors,
– involve companies, communities and associations in original "public / private" partnerships.
11 December 2011: TGV Rhin-Rhône launch and opening of Belfort-Montbéliard TGV railway station
– first "eco-mobile" station in France (with Besançon TGV), certified HQE® (High Environmental Quality),
– in the heart of a two-headed urban area and one of the most important industrial regions of Europe: energy (GE Energy in Belfort), transport (Alstom Belfort, PSA Montbéliard, first industrial site in France) …
11 December 2011: 2 performances in Belfort-Montbéliard TGV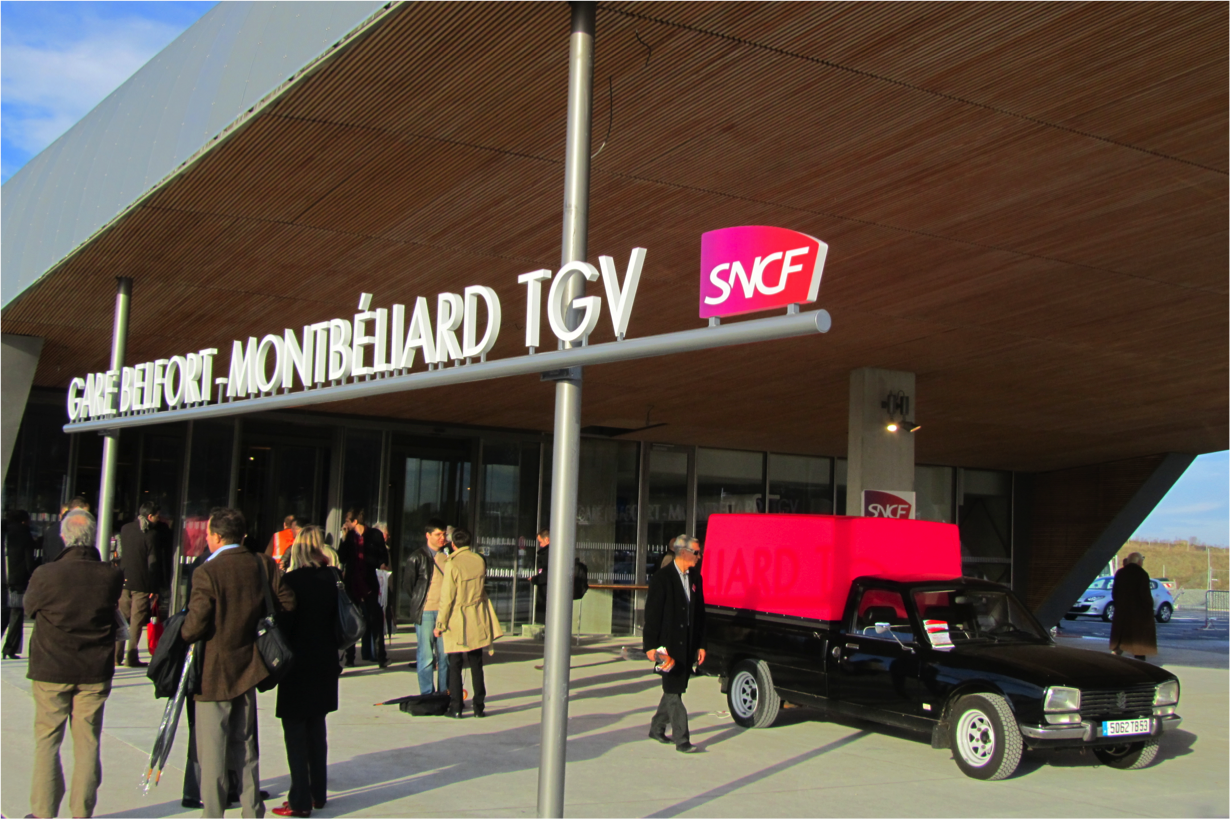 – "504 firefly" by Pierre Malphettes, the magic of the journey and the messenger of the "new link": born in 1968 in Sochaux, this unexpected 504, real ORNI (Unidentified Rolling Object!) follows its journey from Marseille to Scotland (the video "Firefly", projected continuously in the station) stopping each day in one of the 29 cities of Pays de Montbéliard Agglomeration, through the mediation of retired employees from PSA site Of Sochaux, before arriving at the TGV station on the day of its opening, and then join the Peugeot Adventure Museum in 2012 thanks to a popular patronage "504 patrons for 504 fireflies".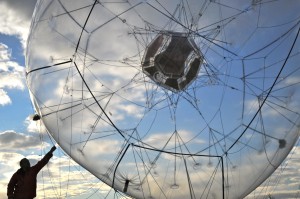 – "cloud city" by Tomas Saraceno, another idea of sustainable development: 90 years after the first flight of Etienne Oehmichen, pioneer of biomechanics and helicopter, just a short distance from the new station, in the heart of the "Valley of the energy" in Territory of Belfort, the Argentinian artist questions by its performance and the idea of "an habitable platform floating in the air", the future of our cities, our transports and our energy needs. The original video of the performance was installed in the grounds of the station in 2012.
Download article Régnier, Philippe, "Entretien avec Sophie Boissard, Directrice de Gares & Connexions", Quotidien de l'art, n°46, 12/12/2011.