Candice Breitz, Working Class Hero (A Portrait of John Lennon), 2006 © Candice Breitz & Kaufmann Repetto gallery, Milan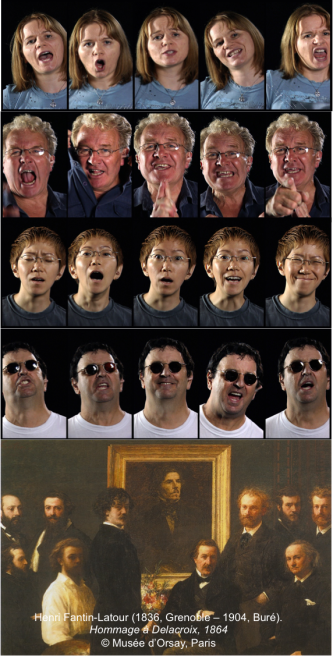 First
look
A chorus of people like us, singing with passion a John Lennon "tube", "working class hero": "I do not believe (in magic etc …), I just believe in me …"; They do not sing particularly well, but they put their heart into it ! And their body language says a lot about each of them, for who plays the game of observation.
"I do not believe (in magic etc …), I believe only in myself …"
Second
look
Pop culture, a powerful language common to all of us at the four corners of the world ? To be "fan" of an artist to the point of having the courage to sing it thus, in front of the camera, is it "melting in the mass" or, on the contrary, a powerful catalyst of our differences ?
Look at
history
In painting Hommage à Delacroix, Fantin-Latour brings together for the first time in the history of the portrait, independent personalities, Manet, Whistler or Baudelaire, still subject to the criteria of tradition, under the tutelary figure of the romantic. It is a question of asserting its identity, while placing itself under the protective shadow of this great initiator of a free art, intimate expression of the individual.
Look at
our society
Popular culture can be, as here, an opportunity for men and women to question the identity of everyone within the collective. It is the Zulu "hello" (a community of Candice Breitz's country of origin, South Africa) that is here metaphorically on the individual need for recognition: " I want to be seen ", to which we reply with " And I see you ".