Harun Farocki, Comparison with a Third, 2007 © Galerie Thaddaeus Ropac, Paris – Salzbourg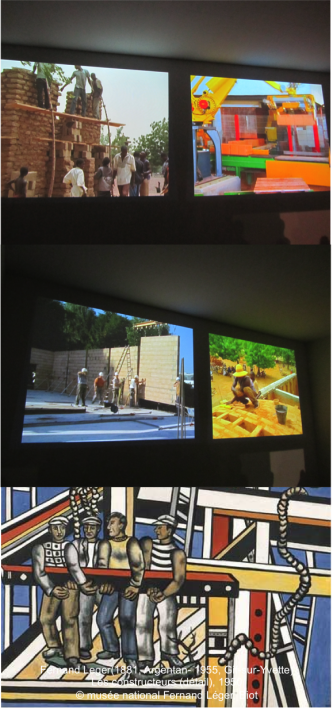 First
look
Projected simultaneously on two screens, we witness the comparison of construction techniques between what seems to be the traditional process of a country of the Southern hemisphere and the increasingly automated process of a country of the North.
Second
look
Harun Farocki is interested here in the comparison of an emblematic work of human activity, presented here in two regions of the world with the opposite "development": "in the double projection one has both succession and simultaneity" says the artist, who allows us to move from one technique to another without hierarchy.
Look at
history
Fernand Léger was one of the first to have interest in the working class and to represent it both in its industrial and human aspects, thus giving it its nobility. The manner of painting itself reflects the process, simplifying the line, accentuating the contrast of colors, transforming into an industrial icon this painting which does not seem realized by a human hand.
Look at
our society
The balance between tradition and modernity is a key to sustainable development, at a time when the virtues of ancestral techniques are being rediscovered. But automation also frees man from certain unpleasant tasks. It is to a genuine "bridge" between "know-how's" of the builders of the North and the South that the artist invites here, for a growth more respectful of cultures.